Kauri Pass Trek
Duration: 10 Nights & 11 Days

Routing: Delhi - Haridwar - Ghat - Ramni - Jhenjhenpatni - Pana - Dakwani - Kauri Pass - Gailgarh - Joshimath - Delhi

Region: Garhwal Himalayas
Season: May to October
Considered by many as characteristically the most beautiful trek in the Garhwal Himalayas, the Kauri Pass (4268 m) is a once in a lifetime experience. The area here is really wild because the higher reaches of the river in the valley have not yet been fully explored. The route is through various remote villages in the wilderness where the industrialized world has not yet managed to cast its shadow. One also passes through dense forests & alpine meadows. To reach the Pass the last ascent is very steep & exerting because the ridge on which the Pass is situated is the edge of the divide between the Lesser & the Greater Himalayas. The ridge-top is a continuous grassy meadow & affords next-door Himalayan views, one of the finest in the world. From the Pass one can view the peaks like Nanda Devi (7818 m), Dunagiri (7066m), Hathi Parvat, Ghori Parvat, Kamet, Kalanka(6932 m), Chaukhamba, Changabang (Shining Mountain) (6864 m), Neelkanth, Rishipahar (6992 m), Mrigthuni (6565 m), Bethratoli, Trishul (7210 m) etc, & one feels truly on top of the world. From Kauri Pass a day trek to Pangerchuli peak is possible from where the Greater Himalayan peaks are a whisper away.
Tour Highlights
Haridwar Mansa Devi temple, Har-ki-pauri
Ramni Village
Joshimath Adi Guru Shankaracharya Temples
Rishikesh Laxman Jhula, Ram Jhula, Geeta Bhawan,temples & ashrams
---
Detailed Itinerary
Day 01: Arrive Delhi
Arrive by International flight, after traditional 'Swagat' (Welcome) our representative would assist you at airport & transfer to hotel for check in.
Delhiisa bustling metropolis, which successfully combines in its folds the ancient with modern. Its strategic location was the prime reasons why successive dynasties chose it as their seat of power. In fact, more mythological cities are believed to be here, like the city of Indraprastha from the Hindu epic Mahabharata, founded around 5000 BC. Numerous monuments were built over several centuries by different rulers like Qutub-ud-din Aibek, Alauddin Khilji, Tughlaks, Humayun & Shah Jahan, who built the Walled City Shah Jehanabad.
Later in first half of 20th century much of New Delhi was planned by Sir Edwin Lutyens, who laid out a grandiose central administrative area as a testament to British rule in India. The division in walled city & New Delhi also marks the division in life styles.
Overnight Hotel - Delhi (B)
Day 02: Delhi - Haridwar (225 km -05 hr)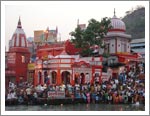 Today we drive to Haridwar, on the banks of holy river Ganga (Ganges) & located at the foothills of the lower Himalayan Range of the Shivalik Mountains. Haridwar literally meaning Gateway to God is one of the most sacred pilgrimage sites for Hindus.
We visit Mansa Devi temple, which is situated at the top of Bilwa Parwat (hill). The rope-way with its brightly colored cable cars takes devotees to this hilltop temple. Later we witness spectacular view of Aarti (collective prayer ceremony)at Har Ki Pauri. This sacred Ghat (stepped holy river bank for bathing), was constructed by King Vikramaditya in memory of his brother. This sacred bathing ghat is also known as Brahmakund. There is activity all around & we observe various rituals performed on the Ghat.
Overnight Hotel - Haridwar (B)
Day 03: Haridwar - Ghat (236 km - 09 hr)
Today we will drive to Ghat (1331m). The mountain road winds up & down in the valley carved by the might River Alaknanda, giving us spectacular scenery all the way. At the confluence of River Nandakini with River Alaknanda we turn to another beautiful valley carved by the River Nandakini & reach Ghat. On the way we have our Lunch (Packed). We arrive Ghat by evening & check-in our Tents.
Overnight Tent - Ghat
Day 04: Ghat - Ramni (1982 m) (10 km trek)
Today we start our trek. The path gradually gains height, contouring around on the valley's side, through the ubiquitous terraced fields. On the way we have our Lunch (Packed) & then start walking to reach Ramni village. We camp away from the houses on a ridge.
Overnight Tent - Ramni (B, L, D)
Day 05: Ramni - Jhenjhenpatni (1524 m) (13 km trek)
We start our trek from Ramni through thick forests, encountering trees of walnut, chestnut & troops of langur executing spectacular leaps through the foliage. This is among the thickest forests you are likely to see in the Himalaya. We stop on the way to have our Lunch (Packed) & by afternoon reach Jhenjhenpatni. .
Overnight Tent - Jhenjhenpatni(B, L, D)
Day 06: Jhenjhenpatni - Pana (2043 m) (12 km trek)
After breakfast we start our trek for Pana. The climb is steeper & the also forest continues. En route we have Lunch (Packed), & later reach the twin villages of Pana-Irani.
Overnight Tent - Pana(B, L, D)
Day 07: Pana - Dakwani (3552 m) (8 km trek)
After breakfast we again start our trek. This is the day when we soon emerge higher from the forests to gain the altitude & reach the alpine meadows. We stop for Lunch (Packed) as usual at some beautiful spot & later reach Dakwani. If we are lucky, we can actually sight Himalayan bears here. .
Overnight Hotel - Tent (B, L, D)
Day 08: Dakwani - Kauri Pass (4268 m)(5 km trek)
Kauri Pass - Gailgarh (5 km trek )
After breakfast we start our trek with a steady climb that will take us the top of Kuari Pass. If the weather is clear we can have one of the best views of the Himalayas with popular peaks like Nanda Devi (7818 m), Dunagiri (7066m), Hathi Parvat, Ghori Parvat, Kamet, Kalanka(6932 m), Chaukhamba, Changabang (Shining Mountain) (6864 m), Neelkanth, Rishipahar (6992 m), Mrigthuni (6565 m), Bethratoli, Trishul (7210 m) etc. It is suggested & would be worthwhile to make a very early start & be on the Pass before 6.00 AM to have the best view, before the rising morning mists block our view of the panorama of snow clad mountains. After crossing the Pass 5 km downhill trek to meadows of Gailgarh. On reaching Gailgarh we will treat ourselves with hot Lunch.
Overnight Tent - Gailagarh(B, L, D)
Day 09: Gailgarh - Tapoban (1829m) (10km trek) - Joshimath (15 km drive)
After breakfast we explore the environs of the seemingly endless meadows. After early lunch we trek all the way down to Tapoban through the forest. From Tapoban we drive 15 km to Joshimath. Overnight Hotel - Joshimath (B)
Day 10: Joshimath - Rishikesh (275 km - 09hr)
Today we drive to Rishikesh, Rishikesh is a very important Hindu pilgrimage site. There is also a cluster of a number of Ashrams & temples giving the entire place a very spiritual atmosphere. The ceaseless flow of the river, regarded as Goddess Ganga adds to the beauty & the purity of the place. Along the river, the area is filled with thick green forests in the all-mountainous region. Rishikesh is famous for its yoga & meditation sessions that are taught here by many yoga experts. It is also a very popular centre for Ayurveda system of healing (traditional Indian medicine system). Besides the sadhus & saints, a mass of tourists too visit this place every year to have a look at this much heard about place. In addition to wonderful scenery & the numerous pilgrimage sites, Rishikesh also makes some of the most popular adventure sport destinations of India like river rafting, trekking, rock climbing, hiking.
Overnight hotel - Rishikesh (B)
Day 11: Rishikesh - Delhi (250km - 06 hr)
After breakfast we will visit Laxman Jhula, Ram Jhula, Geeta Bhawan & other temples & Ashrams. Later we will drive back to Delhi & reach by evening. On arrival transfer to airport.

Our tour concludes: We thank you for your patronage & look forward serve you again in near future
Package includes:
10 Nights accommodation on twin sharing basis with Breakfast.
All meals during trekking
Transportation as per the itinerary (No transportation on leisure days).
Local English speaking guide for the Tour
Services of Helper, Porter, Cook during trekking
Package does not include:
Any airfare or airport tax.
All presently applicable taxes.
Any insurance or claim due to natural calamities such as land slide, road blockage etc.
Any expense of personal nature such as hard/soft drinks, laundry, phone/fax calls, tips etc.
Any other expense not mentioned in the "Package includes".